I
was privileged last night to attend a concert and hear Amara Grace sing. Hers is no ordinary voice, nor her songs anything you have heard before. She writes all her music, and it is upbeat, witty and fun. She pounds the keyboard with great big rhythmic chords. One reviewer likened her voice to a choir. It has that kind of power.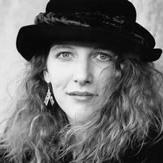 Amara Grace
Which seems odd, coming from a small person. It seemed to me as I sat and listened that she did not own her voice but instead her voice owned her.
Amara Grace is the daughter of the amazingly talented and prolific and as yet undiscovered Truth or Consequences artist known as Ruth. I've blogged about Ruth before and will do so again.
Her abstract paintings have abundant energy and precision. "I lose myself when I paint," says Ruth. Like her daughter's songs, they too are unique.
The musical performance took place in Ruth's gallery on Broadway. About 75 chairs had been brought it. It wasn't enough. There are 25 or more standees, and when Amara finished her hour-and-a-half recital there were more than 100 stood in mesmerized applause.
And here's a pretty good You Tube video of Amara doing
Fish and Bicycle
from her latest CD. Also, check out the title song on that CD,
Can't Keep a Sunrise Down,
by going to her
website song page
. She's amazing.
I guarantee she won't disappoint.